We can help you and your team get from where you are today to where you want to go.
In our research on what makes the difference between a good performing Team and a FULL Potential Team we have found the following five mindsets to be the most crucial enablers:
1.Disciplined investment in shared team standards of BEING vs interpersonal adhoc team building activities: Measures how well the Team creates sustained conditions for trust, respect, openness to new ideas/new thinking.
2.Collectively embody a meaningful purpose (team DNA) vs delivering a project: Measures the Team's ability to rally behind a meaningful purpose and create concrete project opportunities to bring it to life.
3.Opportunity seeking vs Problem solving: Measures the Team's ability to practice the 3rd way. Ie: its ability to re-frame situations, problems and options (finding the win-win's).
4.Help each other shine in their wholeness vs leveraging the expertise we are labeled with: Measures the Team's ability to see people in their wholeness (functional expertise is a part of that but not all of it) and creates responsibilities based on that.
5.Unconditional dependability vs "when it suits me" dependability : Measures the Team's ability to rely on each other, to follow through on commitments, set the right expectations and communicate proactively.
The Human Potential Assessment for teams accurately measures how a Team is performing on these five mindsets (see Figure below):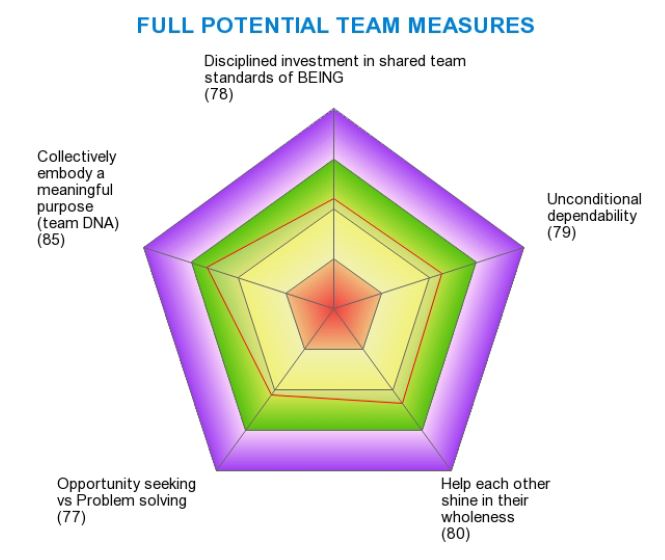 Please contact peter@beingatfullpotential.nz or if you are interested to understand where your team stands on these five measures. We can help you identify the HUMAN levers to help you get from where you are today on these scores to where you want to go.
Download an Individual, Professional, Team, Employability, or Organizational Human Potential Assessment Sample Report. Learn more about the BEING States and Dimensions.
TESTIMONIALS
"The Being at Full Potential Team Facilitation Training takes you through multiple levels of learning; not only do you gain insight and tools for training teams, you also put it into practice during the training and therefore learn directly through experience. The course's foundations rest on solid research and data, which participants then comprehend and consolidate through direct personal experience and creative exercises".
"Well done for not only taking us on a ride ourselves, but also constantly mirror back how we can take clients on a ride in the same manner. Very useful this link between experience and training/practical application of the course content."
"You created a superb learning environment. A safe space to show up in our full Being. Thank you for that!"
"The Full Potential Team Facilitation Training is an excellent way to explore new ways of collaboration. It reveals that real change is not just a matter of doing but that something else is needed. Based on assignments and exercises we learned to create a safe space that is so desperately needed to get everybody on board to make the change. For me it was a very inspiring and stunning experience, that can be applied to any organisation."